I am currently doing a research on whether PUMA running technology will be well accepted in the running communities in Malaysia. PUMA are more well known in the football arena, F1 shoes and apparels, as well as lifestyle. But when comes to running, this is an unknown brand amongst runners like us. But I am willing to give it a shot if given the chance to promote and push the brand.......
1. A 2 layer upper of highly breathable air and single mesh combined with strengthening synthetic leather provides excellent ventilation, foot climate, comfort and stablility.

2. Lace Wrap System: internal free running lace loops make the shoe adjustable to every foot shape and gives and even more supportive felling as the upper nestles against the foot.

3. Stretchable tongue insert for adjustable fit.

4. Finemoulding and heat cut details for additional heel stablitliy and upper support, reducing the stretch of the mesh and the amount of overlays for greater comfort and reduction of weight.

5. Achilles protector for a comfortable, snug and stable heel fit and improved foot guidance during the gait cycle.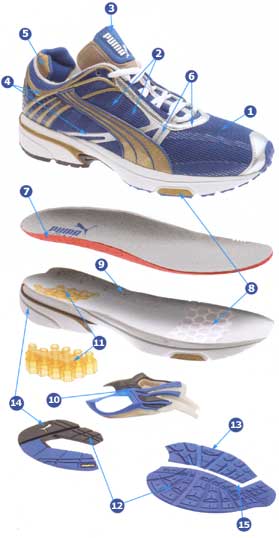 6. 3M Scotchlite 360 visiblity on heel, vamp, lace loops and support trimmings for m
aximum lo
w light safety.

7. Perforated KMS 100 sockliner with moisture-wicking top fabric for durable comfort and dry feet.

8. Low density CELL (ldCELL) insert blended into the midsole provides excellent forefoot cushioning. It absorbs forefoot imparct while maintaining the natural propulsive motion of the foot to give a fast and efficient toe-off.

9. M2D (medial dual density): an insert of higher CM-EVA denscity on the medial side to control and guide the foot motion of a mild and moderate overpornator during the gait cycle.

10. ArchTec: A TPU midfoot shank placed right under the arch. It strengthens and controls the torsional heel and forefoot motion during the gait cycle and stabilizes the foot during the stance phase.

11. DUO CELL: The 2CELL layers, made of a super elastomer, greatly reduce the impact forces upon heel strike. The new independent CELLS support a natural foot motion and slow the foot's inward rotation for optimal footstrike.

12. EverTrack: PUMA's rubber compound for higher abrasion resistance.

13. EverRide: A blown rubber compound that provides additional cushioning through the outsole and reduces the weight of the shoe.

14. Asymmetirc heel flair for a controlled heel-strike reducing impact forces and leading the foot from touch-down to stance phase.

15. Flex-grooves for increased flexibility and a smoother faster feel as you push off from the ground.